After Angie and I's long hibernation, we were ready to go out and eat. Bringing our friend Rachel along, we decided to go to our favorite little Thai place, Sang Dao, for some great eats.
Sang Dao
Sang Dao is a great little place with a room no bigger then most of our living rooms. Simple paintings and a fish tank decorate the room of about 8 tables. Normally very busy during lunch, we were able to quickly grab a table. The menu is right to the point with many mainstay Thai and Lao dishes, with a few Vietnamese dishes as well.
Golden Wings with Chili Sauce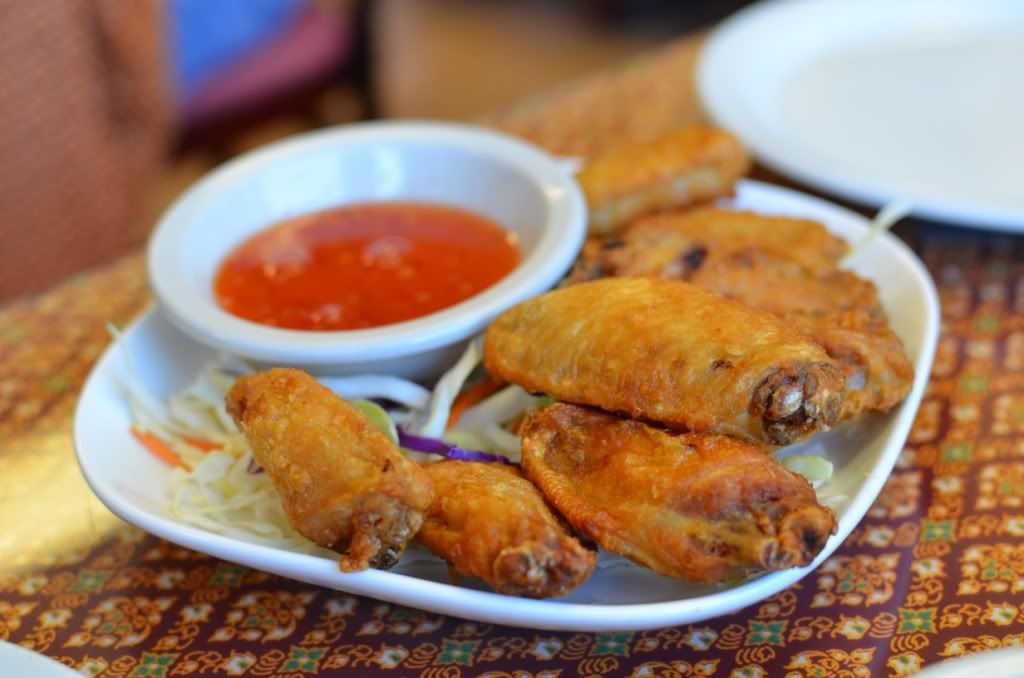 We started off with an appetizer of Golden Wings. They come out hot and crispy, with a side of pretty standard, from a bottle chili sauce. The wings were very tasty, but nothing different then most places. Cooked nicely, weren't too oily, and had a great crispy skin. Nice start to our meal.
Thai BBQ Beef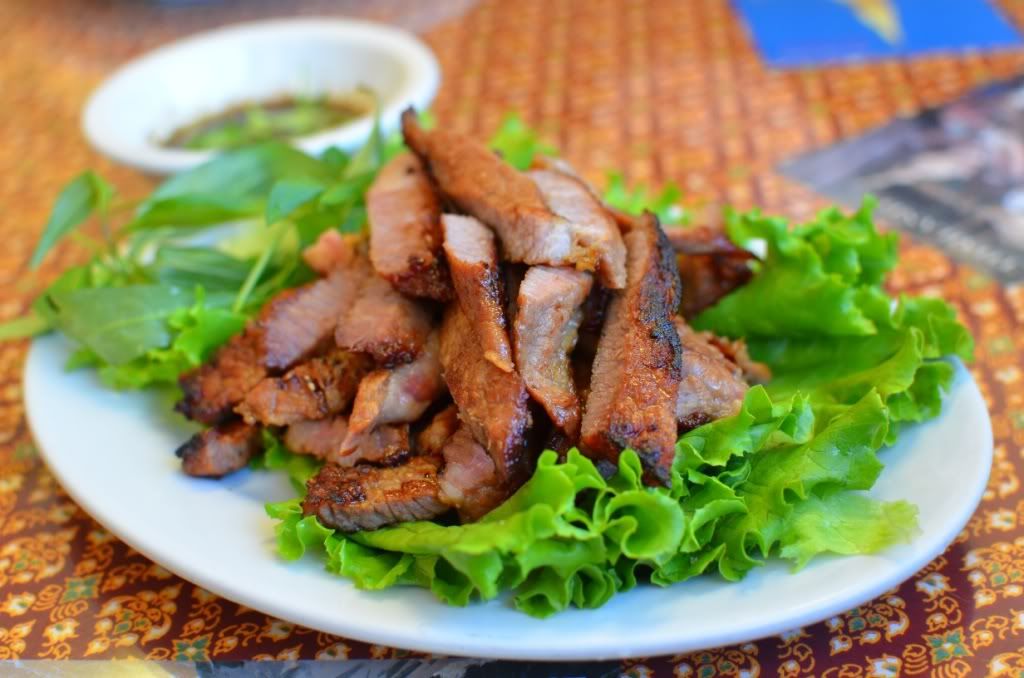 Angie ordered their Thai BBQ (Which can be ordered as beef or pork) and was happy with her order. The BBQ is seasoned in Sang Dao's special marinade, grilled, and chopped up with a side of chili and cilantro sauce for dipping. The meat was slightly sweet and had a nice charring atop some piece, but tended to be a bit tough and chewy with some pieces. The parts that were tender, however, were great and the seasoning went well with the chili cilantro sauce. Better yet, they left the fat on the meat which made it extra enjoyable for us.
Gai Qua
Rachel went with one of her favorite dishes called Gai Qua. The dish consists of pan fried flat noodles, mixed with bean sprouts, green onions, egg, chicken and squid, in a savory-sweet sauce. The dish was tasty with slightly sweet noodles, and tender squid and chicken. The bean sprouts and green onions added some extra texture to the chewiness of most of the dish. Rachel's only complaint of the dish was that the noodles were just a bit too soggy, rather then a bit crispy, otherwise enjoying the dish overall.
Seafood Ka Pow
I ordered my usual Ka Pow with Shrimp, Squid, and Mussels. I requested for it to be "Thai spicy" and received something closer to "Thai-American spicy" being a bit tamer then some other places where I request that heat level. I love the overall composition of the dish, with its garlicky, spicy sauce, and the well cooked (and cleaned) seafood. Flavor and texture from the bell peppers, onions, basil and the heat from the Thai chilies really added to the dish. I normally don't like to eat rice, but I make an exception for this. A definite go-to each and every visit.
Another great visit to Sang Dao to kick start Angie and I's (and maybe even a few other friends if they're interested) blogging once again. Great atmosphere and customer service mixed with good food always make for a fun time. Don't expect amazingly creative and astonishing food. Do expect, however, really great, simple, and cheap food done very well. Stop by sometime and try out Sang Dao to see for yourself.
Sang Dao Restaurant
5421 El Cajon Blvd
(between 54th St & Berting St)
San Diego, CA 92115
Neighborhood: Rolando
(619) 263-0914