Meeting up with Angie for lunch, we decided to get some BBQ. Trying to decide on what kind, I remember seeing a sign for a new All-You-Can-Eat (AYCE) Korean BBQ in the Convoy Plaza near Manna. Curious, we chose to try the place out for their lunch AYCE special.
New Seoul BBQ
We went inside at the relatively early lunch hour and were seated immediately. There were two lunch menus with a cheap $10 option as choice A, which was fairly limited in the number of options, as well as a $15 option as Choice B. We went with Choice B because of the wider variety of meats available.
Ban Chan
After placing our order with the waiter, we were given some banchan to start us off. The appetizers were relatively small, including the standard items like kimchi, radishes, potato salad, cucumber, fish cake, and spicy bean sprouts. They were nothing special, though the potato salad was quite good.
Large Intestine, Marinated Beef, Beef Tongue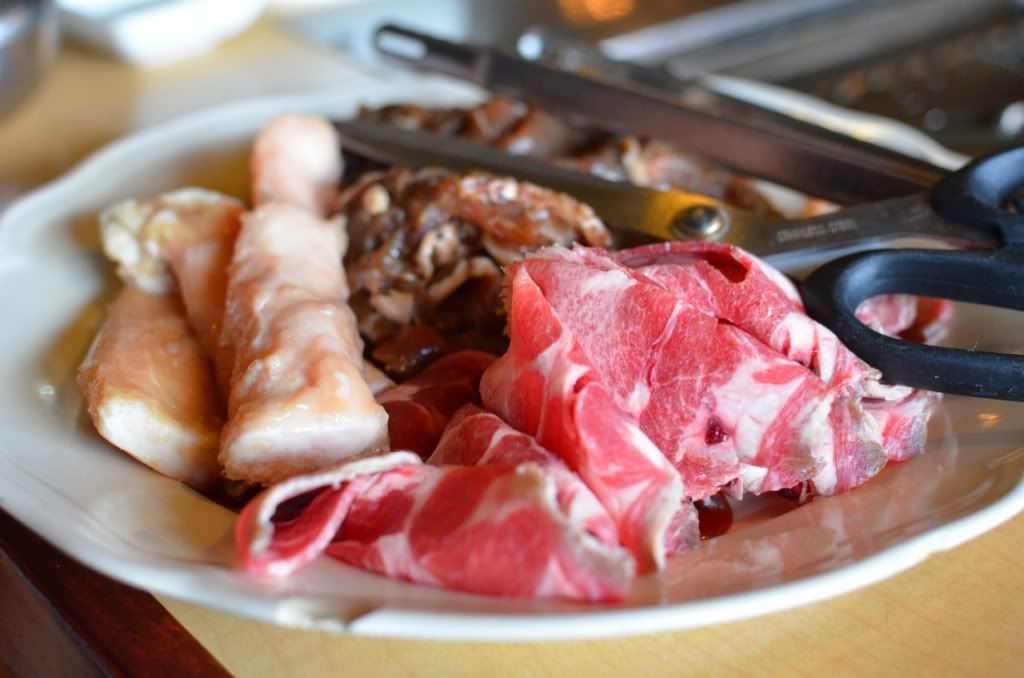 When we finished the banchan, the meat was brought out and we began to grill the meat. I chose to get large intestine and beef tongue, while Angie went with the marinated beef (bulgogi). The marinated beef was juicy and more spiced than the usual sweet taste, which we enjoyed. The beef tongue was of average quality, and not nearly as thin and tender as some beef tongue we have had, but overall decent. I enjoyed the large intestine the most, which takes a while to cook, but was well worth the wait. Angie was not a fan of intestine and chose not to try it, but I described it to her as eating a big piece of fatty meat.
Squid, Beef Brisket, and Pork Belly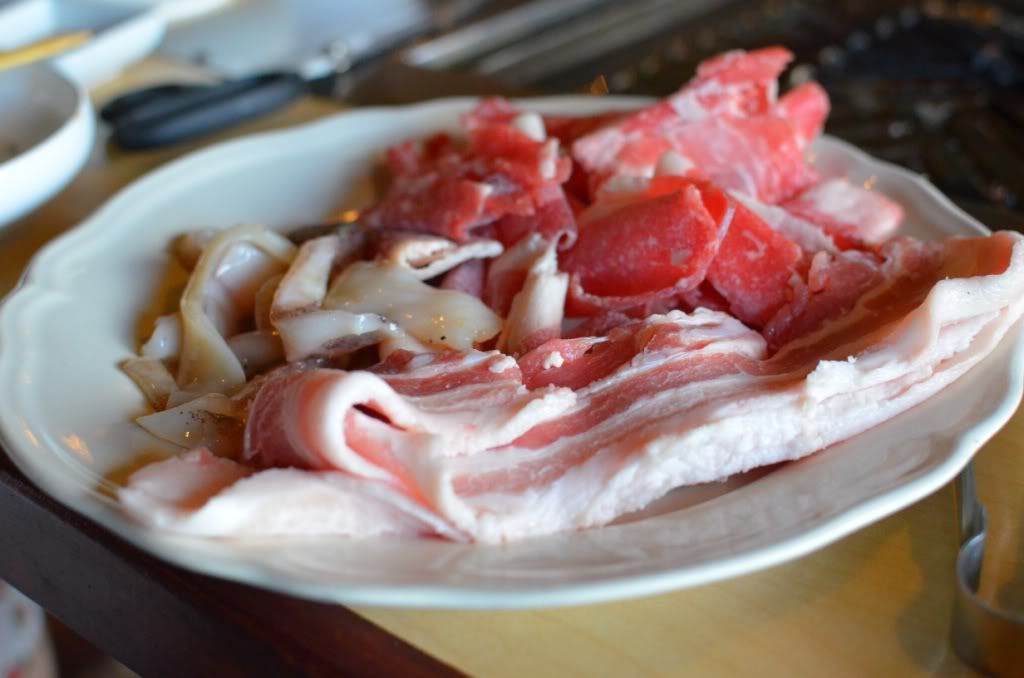 This is when things began to go a bit downhill. Our waiter returned and took our order to try out the seafood and some more meat options, but while he was away, we were simply sitting at the grill. One of the other waitresses took this opportunity to mistakenly turn off the grill and handed us the check. At this point, we'd only had one plate of meat at this "All You Can Eat" restaurant, so it felt like we were being rushed. However, we were able to flag down our original waiter and get the grill started again after he gave us the plate of meat. The squid was a rather small portion, and fairly chewy. It did not have too much of a taste but still had a good texture to it. The beef brisket was good and on-point, being tender, juicy, and also quick to grill. Lastly, we cooked the pork belly, but did not get much of an opportunity to taste it very well because at this point, our grill was very dirty and burned the few pieces of pork we had.
Spare Ribs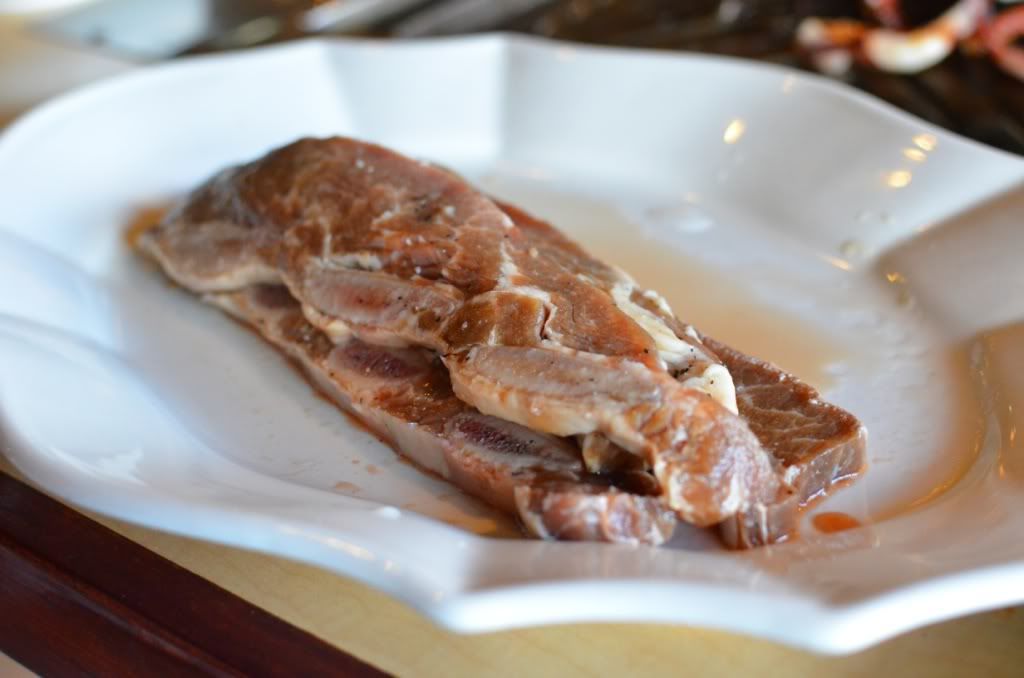 Since the menu options were fairly limited, we chose the spare ribs. This was by far Angie's favorite plate. The grill was newly changed, so the meat was able to cook well. The ribs were tender and full of flavor, juicy, and delicious. By that time, the ribs were filling us up and we only opted for one last plate of beef brisket and large intestine again. The beef brisket cooked well and quick, but the large intestine takes a long time to cook. While we were waiting for it to cook, the same waitress that turned off our grill after our first plate turned it off yet again, which didn't let the intestine cook thoroughly and made it unsafe to eat. This was the straw that broke the camel's back for their service to us.
New Seoul Barbecue is a place that seems rather hit-or-miss with its barbecue. While we enjoyed the food there, the service was lacking and really made the overall experience very unappealing. Angie and I would likely not go back again and would rather pay the few extra bucks to go to another AYCE Korean barbecue down the street with better service.
New Soul BBQ
4344 Convoy St
San Diego, California 92111
(858) 505-8700