Since I don't want to bore you all with the details, I am currently in LA for a two day obligation. Since I'll have a lot of free time, why not spend most of it eating? Ange, not wanting to pass up a reason to get out of San Diego, joined me in my eating adventures. Finishing my prior obligations, we headed to the Little Tokyo area for a quick lunch. We were planning on meeting Ange and I's friends H and M for lunch so we wanted something light to snack on. I suggested we head to the Japanese Village Plaza for a quick walk around the area and to check out our snacking options.
Japanese Village Plaza
This little plaza has a huge assortment of Japan inspired stores. There are many clothing, shoe, and trinket stores as well a large variety of restaurants. Restaurants range from shabu shabu, to sushi, to little bakeries, to ramen. Since we wanted to save our appetite for our lunch with our friends, we decided to just head into Nijiya Market for a small, ready-to-go snack.
Nijiya Market
Nijiya market is a small Japanese market chain with stores throughout California. It stocks many different imported goods from Japan and other parts of Asia. They also carry an assortment of ready-to-go meals such as sandwiches or bento boxes to heat up and eat. We were looking to eat lightly, so Ange and I shared a mixed sandwich box of egg salad and ham. Ange also picked out a Mango Calpico for us to drink. After we made our purchase, we found a bench to dig into our food.
Ham & Egg Sandwich
After living in Japan for a few years, I've grown fond of "Japanese White Bread" Sandwiches. As with these sandwiches, the bread is light, airy, and very soft. The egg salad was very light and not heavy at all on the mayo, and the ham sandwich was very simple using sweet ham and fresh vegetables. I ate my half of the sandwiches separately and liked the ham sandwich the most. Ange ate both sandwiches together, liking the mix of flavors. A great, light snack to have before a meal.
Mango Calpico
The mango Calpico, a popular fruit drink brand, tasted good but very sweet. It had an artificial mango flavor taste to it, but was still very good.
Nijiya Market is a great market for any Japanese goods you may need. They have a large assortment of different things, such as drinks and cooking ingredients. Different choices of ready-to-eat meals are also very good. It may be smaller then other major Japanese chain markets, but Nijiya Market is a great stop for many of your needs.
---
After our small snack, I ended up even hungrier then before while Ange wanted something sweet to eat. After walking around the Japanese Village Plaza a bit more, we stumbled upon Yamazaki, which had different baked goods that caught Ange's eyes. We went in to see what they had and if they had anything to help suppress my appetite.
Yamazaki Bread & Cafe
Yamazaki is a small bakery in the middle of the Japanese Village Plaza serving up many different desserts and some hot foods as well. For desserts, they had many different cakes, breads, and puddings to chose from. For hot food, there were meat buns, stuffed breads and savory pastries. Ange decided on the pudding, while I chose the curry doughnut.
Curry Doughnut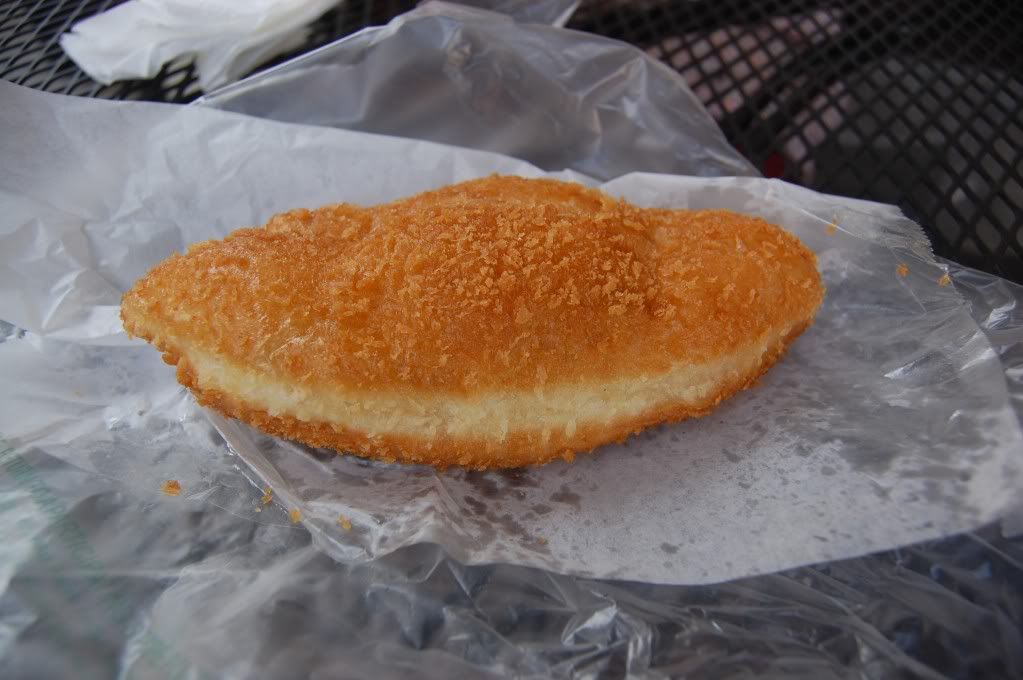 I fell in love with these after having one from the Mitsuwa Market bakery in Irvine. This one was way better, having really tasty curry with actual pieces of beef and vegetables. The bread was chewy with a nice crispy outside. It tasted great, but was very oily on the outside.
Pudding
Ange really enjoyed the pudding. She liked the smooth, silky texture of the pudding and the slight vanilla flavoring. I wasn't a huge fan of the pudding, aside from the bottom which had a tasty, slightly bitter, almost coffee like taste.
The large selection of breads, desserts, hot foods, and even drinks make Yamazaki a great stop for a quick, and tasty breakfast or lunch. Definitely have to stop by again next time I'm in LA for another tasty doughnut!
Nijiya Market
124 Japanese Village Plz Mall
Los Angeles, CA 90012
(213) 680-3280
Yamazaki Bread and Cake
123 Japanese Village Plz Mall
Los Angeles, CA 90012
(213) 624-2773